Our Senior Pastor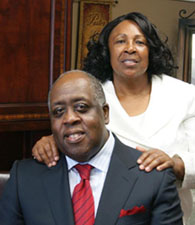 Pastor & Sister Emory received the Holy Ghost and were baptized in 1980 by Elder Bill Yandris. They continued under his ministry and mentorship in Merced, CA. for approximately 17 years. They received their local license with the United Pentecostal Church International (UPCI) in 1988 & general license in 1995. In 1996, Bishop Yandris released Pastor & Sister Emory from local church ministry into full time evangelism.
From September of 1996 until September of 2006, Pastor & Sister Emory traveled from coast to coast preaching the saving Gospel of Jesus Christ. God has been kind to bless and honor their faithfulness and dedication. As a seasoned and highly sought after evangelist, Pastor Emory has seen thousands receive the Holy Ghost and hundreds healed by the power of God. He has preached revivals, youth camps, youth conventions, several major revival conferences, and camp-meetings both in North America and abroad.
In October of 2006, God saw fit to bring the Emory's back home to the Apostolic Tabernacle Church as Pastor. In May of 2007, they received their ordination license with the UPCI. The Apostolic Tabernacle church family is blessed to have this faithful couple as our shepherds.